How can I be pro-life in lockdown?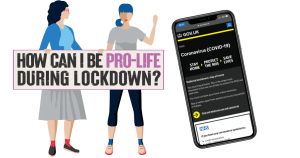 What a great question! It shows that the person asking the question realises that to truly be pro-life we have to more than just think it. We are all feeling limited right now but rather than list what we can't do, let's be more creative and think what we CAN do. A passionate mind will find some outlet – here are a few of our ideas, feel free to add yours in the comments section:

what has happened to many of us during lockdown – we are forced to spend larger amounts of time than usual with those we live with. For some this is a blessing, for others a challenge. Are there people we live with who support abortion? It can sometimes be tempting to focus more on the stranger we are connecting with on social media whilst ignoring the person sitting next to us on the sofa. Could this lockdown be an opportunity to share a prolife story with a family member or to open up about our beliefs to a flatmate? Would they join us in watching 'Unplanned' or 'Gosnell'? A first gentle step, not pushing them to defend themselves and without getting defensive ourselves either.

how about the simple actions that might not change the world but could be life-changing for one person? I know someone with a child who has very special needs. This past year of lockdowns and restrictions has been one of her biggest challenges ever. These beautiful children are often particularly targeted for abortion. When a mother is told her unborn child may have special needs, seeing how other parents do or don't cope can make all the difference in a life or death decision. A pro-life friend of mine who is a carer for a child with both mental and physical health problems made a point during the lockdowns to offer additional support to the family she works for. This gesture may seem small but it's these smaller acts of thoughtfulness which can help build a pro-life society. Do you know a parent of a larger family you could send an encouraging message to or a pregnant mum you could offer to shop for? A card in the post or a phone call can be just as much part of the pro-life ministry as holding a poster at a demonstration.

could this be a time of preparation for us? So often we complain that we don't have time for this or that but many of us have been deprived of our usual time consuming routines and free-time isn't quite as free as it once was. Could this actually be a plus in some ways? How about taking time to equip ourselves with pro-life knowledge so we are better able to share our position when the moment arises? Could we read from some of the pro-life masters eg Stephanie Gray Connors, Ryan Bomberger, Scott Klusendorf, Trent Horn or Obianuju Ekeocha to name but a few. How about listening to some pro-life testimonies to inform our hearts? For those who have religious beliefs this could also be a time of prayer both for ourselves (to overcome any fears, apathy or other obstacles) and also for those we know who are struggling with abortion in any way.

something that is thriving during lockdown is social media. Whether we like it or not this can be a way of reaching out to people we can't physically be with. I know someone who completely changed her view on abortion because she read her friend's pro-life posts on Facebook. Social media can have its bad points which are frequently pointed out but for the person who refuses to discuss abortion because they aren't comfortable defending their position (or maybe because the issue has personally hurt them) social media can sometimes be the only way to reach them. Like the mother who leaves leaflets on good sex-ed/chastity in the bathroom knowing her teenage son will see them, the pro-lifer who posts a loving pro-life testimony or an informative article can be touching upon a sensitive subject in a non-confrontational way.

some people have been financially brought to their knees during the last year but others have come out of it with their bank account relatively unscathed. Most pro-life organisations I know have suffered in this area due to a decrease in donations. Could you take the time during lockdown to set up a direct debit or give a one off donation to a pro-life cause which touches your heart in some way? How about organising a sponsored or other fundraising event either just for yourself or for friends to join in from where they live eg a run/dance/silence/read/online fashion show/jewellery making etc

there are still many activities which are permitted even in these difficult times. Much charitable and voluntary work is exempt from the bans which restricts so many other activities. Rather than presume we can't do anything at the moment and use it as an excuse not to engage on what we might consider to be a difficult or uncomfortable topic, how about finding out what work is still carrying on as usual? Some vigils outside abortion centres have continued in various areas, brush up your writing skills and offer to write a blog for a pro-life organisation, people can still meet for support groups which includes some post-abortive ministries (can you offer help with one of these or encourage someone who is still scarred by an abortion to attend), there's nothing stopping us contacting our MP to voice concerns about DIY home-abortions by e/mail or phone, some pro-life groups have continued lessons about abortion online and have reached many young people this way. Contact a pro-life organisation which you support and ask if there's anything you can do to help them in these unusual times. Most importantly do something! We can be sure that those who support abortion are more active than ever as abortions have been rising steadily since the first lockdown was introduced. Let's not be outdone by their misguided hard work and match it with our own zeal, whether it's through a few small actions lovingly done or a whole new project started, we can turn this from a setback to an opportunity!