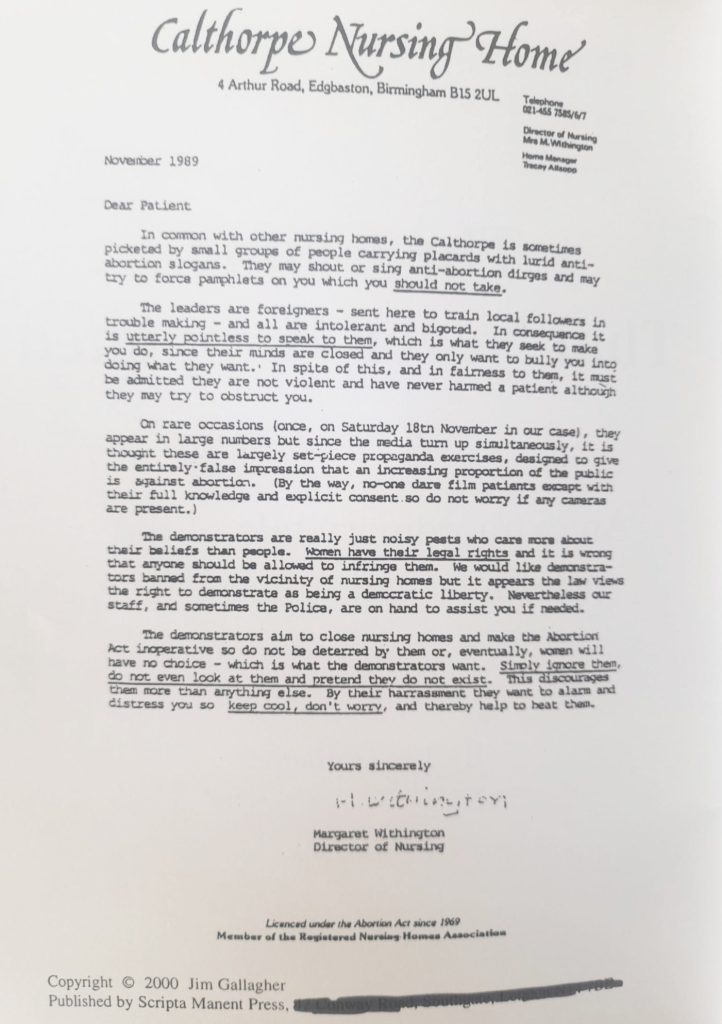 This letter dating from 1989 from an abortion centre nursing director to a prospective client was recently brought to my attention. I think it's worth taking a moment to examine the contents. It's a real gem of a letter in that it shows how little things have changed with regards to abortion providers' tactics. It's a really sad letter when you realise how much has happened because of hearsay, gossip and some clever euphemisms.
'Calthorpe Nursing Home', this sounds like a home for the elderly which indeed was how the building in Calthorpe started off its life, but having become an abortion centre in 1969 (the first in the country) I think a name change should have followed, unless they felt uncomfortable about the 'services' (or disservices) they provided? Following on from this, to address the letter 'Dear Patient' seems slightly inaccurate too. A patient is someone receiving medical treatment – going for an abortion at an abortion centre isn't medical treatment since the person isn't going there to have an illness treated.
In paragraph 2, we read how the leaders of the pro-life vigil are 'foreigners' and 'all are intolerant and bigoted'. This seems rather a sweeping statement and quite possibly an example of self-projection. Considering how abortion providers today such as MSI are pushing their so called 'services' across the world, particularly into Africa regardless of whether this is in line with that nation's cultural beliefs or not.
This statement is followed by the words 'It is utterly pointless to speak to them', underlined so as to become almost a command. It sounds as if the director of the 'home' (isn't a 'home' supposed to refer to where you live, not where you're brought to have your life ended?), Ms Withington, was fearful of what might happen if a conversation took place. Might she have lost one of her 'patients' to those 'foreigners' who might help them (horror of horrors!) keep their baby? We are told the volunteers will 'bully you into doing want they want'. One has to ask who is coming across as the bully in this letter with the veiled commands being issued in underlined sentences?
Part way through the letter, Ms Withington suddenly realised she may have gone too far with her dramatic stories of what those outside her centre are up to and that her words might score an own goal for the pro-lifers in as much as it might make her would-be 'patients' think again about their decision to abort because she has now frightened them all off. Ms Withington did a nifty bit of back peddling. 'It must be admitted they are not violent and have never harmed a patient' she slipped in before adding 'no one dare film patients'.
Ms Withington explains how she would like demonstrators 'banned from the vicinity of nursing homes' as their aim is to 'close nursing homes'. You have to give abortion supporters some credit – they are ever the experts in euphemisms and it does add to the air of strangeness that they are trying to paint pro-lifers with if they are said to be campaigning to 'close nursing homes' – facts have never been of much importance to most abortion supporters anyway. After all, if a baby can be called a 'clump of cells' then an abortion centre can just as easily be called a 'nursing home'.
Nearly 35 years on it seems that the likes of Ms Withington are nearer to getting their wishes granted, as we have various PSPOs (public Space Protection Orders) creating censorship zones around abortion centres and now national buffer zones being voted in.
For years, many women on finding out they were pregnant, would make an abortion centre their first and only port of call. That didn't mean their minds were irrevocably made up since abortion centres have always claimed to provide pre-abortion counselling which some women were seeking. Others who had made 'their choice' to have an abortion were doing so because of pressure or because of a lack of other options, which have never been offered by abortion providers.
Right from the very first paragraph of this letter we can see how little things have changed in terms of who's really doing the influencing. When talking about the leaflets being offered by the pro-lifers, the words 'Should not take' are underlined so as to, yet again, issue another order. What happened to choice? The irony of this when compared with the sentence in the last paragraph where we are reminded that 'eventually, women will have no choice' is obviously lost although these words have turned out to be quite prophetic: Abortion provider MSI recorded an unprecedented rise in abortions of around 30% this February, March and April with growing numbers of women stating their decision (to continue the pregnancy rather than abort) has been taken away from them, this could be either due to financial concerns or coercion from others. 
Over the last 55 years, hundreds of lives have been saved because real options were lovingly provided by pro-life individuals outside abortion centres, evidenced by the many women and couples who were recipients of this support, yet we are constantly seeing more and more obstacles being placed in the way of anyone trying to offer real help to pregnant women. Pregnant women have had every last vestige of care removed with the onset of pills by post abortions, those offering an alternative to abortion have been pushed virtually out of sight and just in case anyone should still dare to speak with them, those pro-lifers are then branded as dangerous, bigoted vigilantes. Meanwhile, the real bigot, Ms Withington, has ensured her beliefs have been passed on to the next generation who still believe today that pro-lifers should come with the warning 'Do not even look at them and pretend that they do not exist'.