Inspired by the example of pro-life activists in the UK in the 1970's and 1980's and also by March for Life in America, in 2012 a small group of people in Birmingham UK decided to hold a pro-life walk of witness as a half-way event for their 40 Days for Life campaign.  The team were pleasantly surprised when around seventy people turned up to join in with the walk of witness from St Michael's Church on Moor St to Victoria Square.  As they walked through the city centre, they held bright yellow balloons printed with the simple message of LIFE, sang hymns and prayed for a culture of life.
Following the success of this public witness to life and bolstered on by an increasing interest shown in a further March the following year, the team decided to advertise the next March on social media and to name the event, March for Life UK.  Again the team were delighted to find that interest had grown with people coming to attend the March from all over the country, they estimated that in 2013, around 400 people came to St Chad's Cathedral in Birmingham and marched for life.
Since then March for Life UK has grown bigger and bigger each year, in 2018 the bold decision to move to London was taken and in the beautiful sunshine we saw our biggest crowd to date of 4000 people!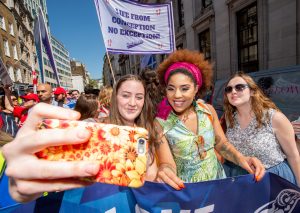 Look back at where we have come from to where we are now!
March for Life UK 2018 – Lifefest 18 – The Videos
March for Life UK 2017 – 

Lifefest 17

 – The Videos
March for Life UK 2016 – The Videos
March for Life UK 2015 – The Videos
March for Life UK 2014

subscribe to our newsletter