My response to The Guardian's piece of abortion propaganda which you can read here if you like that kind of thing: https://www.theguardian.com/uk-news/2019/apr/08/anti-abortion-activists-harassing-women-at-uk-clinics-during-lent
Dear Simon Murphy, I'm sure you'll be interested to know we've had 7 women/couples that we know of change their minds about abortion in Birmingham this 40 Days for Life – do you think that's because we 'brandished models of foetuses', 'wielded banners' and 'condemned' the women entering as 'murderers'? Most likely not. Before every participant joins in our campaign they sign a Statement of Peace – which has never been broken. We don't even have any posters or banners in Birmingham and I wouldn't know how to brandish (wave in the air in a threatening way) a 2 inch long plastic foetus if I tried. So what made these women/couples change their minds except prayer (which I presume we aren't allowed to mention)? Could it be we offered these people a real CHOICE ie another viable option other than abortion, so they didn't feel forced into going back to Marie Stopes?
On the same day as The Guardian published their disinformation I received two messages from women/couples we are supporting at the moment who had previously been planning to abort their babies: 'If it wasn't for all this kind help and support I just do not know where we would be. I wish I could give you back something so that you can keep helping people the way you help us because goodness knows you do' and 'Thank you sooooo much. I'm so happy. It will take me some time to come to terms with how much help you have given me'. Was The Guardian interested in finding out about how these people were helped or what their experience was of the volunteers they met outside the abortion centre? Did anyone ask them which part of the foetus brandishing and banner wielding it was that made them feel so cared for that one of them told me only two days ago: 'I have never experienced love like this before'? Sadly The Guardian was more interested in interviewing Labour MP Jess Phillips.
MP Jess Phillips had this to say: 'For most women, myself included, abortion is not a traumatic incident and to suggest it is harder than being raped suggests that these groups know as much about victims of sexual violence as they know about abortion: nothing.' So it is ok for MP Jess Phillips to speak on behalf of 'most women' (has she surveyed most of the mothers of the 9 million humans aborted in the UK since 1967 – that must have been some task!) but when a woman is quoted ina leaflet as saying 'For me, the abortion was harder to get over than the rape' she's not even allowed to speak for herself. It seems only some opinions or experiences are allowed to be voiced.
I'm glad that part of the offending leaflet was printed because people can then read for themselves some of the risks associated with abortion such as:
Up to 1 in 10 abortions (approx 19,000 a year in England and Wales) result in infection of the womb.
Up to 1 in 20 (approx 9,500 a year in England and Wales) result in some of the foetus remaining in the womb and may require further treatment.
Up to 1 in 100 abortions damage the cervix (the entrance to the womb) which could affect future pregnancies (approx 1,900 a year in England and Wales).
Up to 1 in 100 abortions 'fail' and the foetus/baby is still alive afterwards (approx 1,900 a year in England and Wales).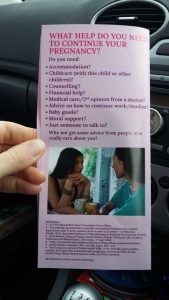 It's good that people can read for themselves the information released from the British Heart Foundation when a team of researchers at the University of Oxford 'demonstrated earlier beating of the heart . . . as early as 16 days after conception' – a stage where many women would not even realise they were pregnant. Fortunately these studies happened in 2016 so don't fall foul of 'The Guardian's' cut off point at which research no longer counts. They seem horrified that we 'use a 14 year old Finnish study' when we state 'one study found that women who had an abortion have six times higher rates of suicide than women who continue pregnancies' and yet they themselves quote from a 2007 parliamentary report when they want to help prove their point. So 14 years is too old but 12 years is fine – Sorry I didn't know these rules when I printed those leaflets. Maybe this more up-to-date piece of research published by the Journal of American Physicians and Surgeons will be of interest which looks at how nearly 3/4 of women with a history of abortion surveyed admitted they were under pressure to terminate their pregnancy https://www.pop.org/many-american-women-felt-pressured-abortions-study-finds/
Also, I have to say its a shame that you forgot to print the part of the leaflet where we offer help – I've attached it here to make up for it.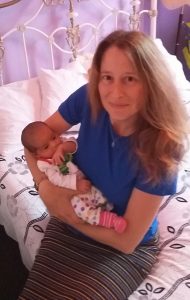 Just a few days ago a doctor walked past our vigil and stopped to say 'Thank you for being here. I'm not of the same religion as you but I'm a GP and I see many couples desperate to adopt babies – of course they can't because they've all been aborted at places like this.' So dear Simon Murphy of The Guardian while you carry on churning out the same old lies and rubbish we will carry on offering the same old truths and support to those who need it and moments like those pictured in the above photo will make it all worth it.