Pro-Life Activism Under the Spotlight: Brand New Blog Series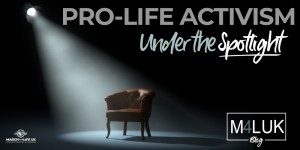 In this series of blogs starting today we put the spotlight on people from all walks of life who don't just believe abortion is wrong, don't just have pro-life convictions but are putting their beliefs into action. We find out why they do what they do, the challenges they face and how they overcome them. These are ordinary people with busy lives like me and you but they are stepping out of their comfort zone to challenge the culture and work to change it. They may be ordinary people but they are doing extraordinary work. What's stopping you from becoming a pro-life activist?
If you're that bothered about ABORTION, do something about it!
Patrick is a delivery driver for a heating company in Birmingham, he has participated in 40 days for life for around six years and regularly goes outside Marie Stopes in Birmingham for peaceful prayer and conversations with women and men alike. 
Have you always been pro-life? 
I grew up in a catholic family but we didn't really speak about abortion, I do remember though from an early age, I never liked the idea of it. What helped solidify my opinion was when I had my first child; my wife and I were both very young (I was only 18), a lot of people I knew said we were 'too young' and were encouraging us to think about our 'options' but I knew this was my child even when she was inside the womb.
What prolife work do you take part in? 
I'm connected with the 40 days for life, which we do twice a year, I've been doing that since it started – praying outside an abortion centre and offering alternatives. I never thought that I'd be able to go and speak to strangers, I didn't think I had the confidence – it just wasn't me but then this thought kept coming to me 'it's all good and well saying something needs to be done about the abortion situation in our country but maybe you have to be the one to stand up and be counted and actually do something about it'. I couldn't keep ignoring that thought forever.
What obstacles do you face? 
I go outside the abortion centre once a week all year round. I've had a couple of angry fathers and mothers approach me, people saying  'get a job' or 'get a life' but your approach has to be right.  Sometimes people don't initially want to listen because they need to offload – a lot of these people think they're defending the women going in, saying I'm upsetting her but it's not me upsetting her. Her being here is upsetting her, having an abortion is upsetting her, that's why emotions can run high. Now that I've been doing this a while I actually quite like speaking to the angry ones because once you get into a conversation and you show that you're not there judging or harassing they often say how they appreciate what you're doing.
 
Do you have a favourite moment from taking part in the prolife movement? 
I remember one time I got to the abortion centre early before my prayer partner so I just started to pray quietly. As I stood there a man came out to talk to me. the man was a Muslim and he told me that he was opposed to abortion but that his wife was inside because she had a serious medical condition and her doctor had advised her to abort. 
I'm no medical man myself but I do know that doctors sometimes consider abortion a bit too easily and readily so I told the father this and reminded him that if he didn't fight for his child then no one would. The man immediately walked back into the centre and 2 minutes later came out with his wife. They both looked so happy and said they had felt uncomfortable about the idea of abortion anyhow and had prayed to God for a sign. They said that sign was me. Just at that moment my prayer partner turned up and he had with him a phone number for a pro-life doctor so we were able to ensure that this couple got help for the mother as well as the baby. That day really stuck with me.
What would you say to someone who is pro-life by belief but has never been active? 
I'd say, if you're that bothered by abortion, do something about it. Maybe go on a March for Life or 40 Days for Life and just pray to start with. You don't have to say anything, just be there. When I first started I only went outside the abortion centre on a Sunday when it was closed, and it developed from there. God gave me the grace to do everything else. I may not be the best at talking to people on the street but I'm working on being the best that I can be and it has become part of my week now.
Do you think we need more men in the movement? 
I've had women come up to me and say it's fantastic that I'm there and I've had women come up to me and say, 'what are you doing here you're a man, what do you know?' But do I not deserve an opinion?  It takes two to make a baby so why can't we both have an opinion about what goes on afterwards. I'm here because I care. Since I've met the men and women going into the abortion centre I care even more deeply than I did before, it isn't just an issue – this has become personal now.
Now, more than ever, we need people to stand up for the unborn and be pro-active in the movement. If you feel called to pray and offer alternatives outside an abortion centre then consider contacting one of these organisations: 40 Days for Life, Helpers of God's Precious Infants or The Good Counsel Network. Remember God doesn't call the equipped, He equips those He calls . . . Could that be you? 
Mary Conroy