A big thank you to those of you who joined us on Wednesday for our public witness display in Parliament Square to remember the babies who have been aborted since the Abortion Act was passed exactly 54 years ago on Oct 27th 1967.
Volunteers dressed in dark clothes stood around the edge of Parliament Square holding placards showing the amount of abortions which occurred in the year they were born. Along the front of the display were posters which highlighted the impact abortion has had on society while the main banner had the total number of abortions which have occurred in Great Britain: 9,789,238.
We were joined by leaders of many pro-life organisations as well as both political and religious leaders on the day who spoke strongly of the damage that the Abortion Act has caused for unborn children, their mothers and wider society.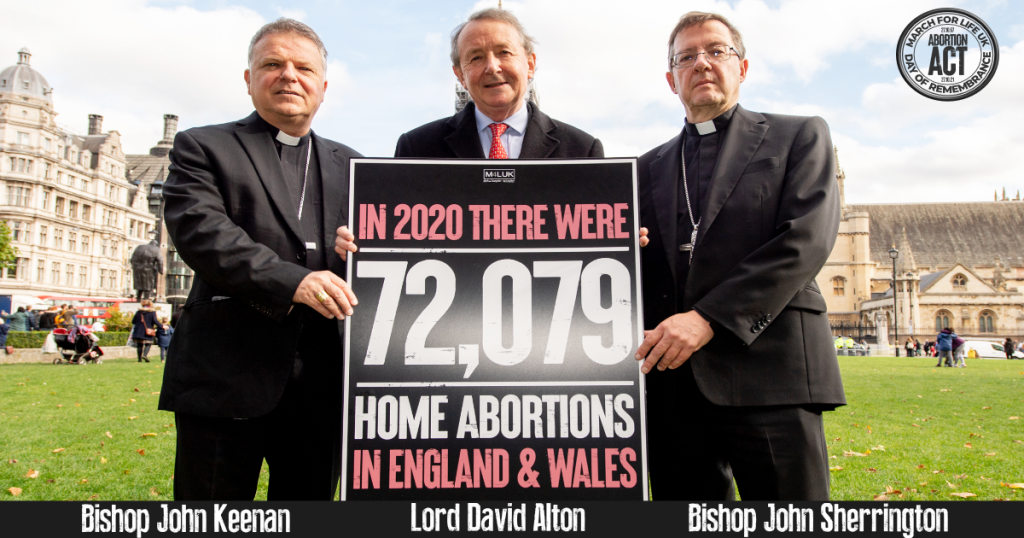 Lord David Alton who was in attendance reminded those present that 'We were told it (abortion) would only ever be used in extreme circumstances, in hard cases. 54 years later we approach 10 million abortions, that's almost one every 3 minutes.' This sentiment was supported by Carla Lockhart MP who said 'Having a baby is challenging but it is the most amazing thing in the world. Every life has value.'
Two Catholic bishops were also present; Bishop John Sherrington, representative of Cardinal Vincent Nichols (head of the Catholic Church in England and Wales) and Bishop John Keenan representing the Catholic Church in Scotland. Bishop Sherrington stated 'I'm here because I want to grieve for the 10 million lives lost to abortion and I'm here for those women who have been affected by this but also to seek for the conversion of hearts and minds.' Similarly Bishop Keenan said 'It's been 54 years since the passing of the Abortion Act and we're approaching nearly 10 million lives lost – that's practically twice the population of Scotland!'
Pastor Ade Omooba, co-founder of Christian Concern and the Christian Legal centre also spoke on the day and shared 'I call the womb W.O.M.B. "world of mother and baby". The womb is one of the most sacred spaces – we must be careful how we treat that space we're blessed with.'
Many people tuned in live to watch the event. If you missed that then you can see some of the event here
Generally the display seemed very well received by the public with many stopping to comment with surprise at some of the statistics displayed eg that 1 in 4 pregnancies ends in abortion or that children with downs syndrome or cleft palate can be aborted up till birth. Some participants shared their own testimonies with the camera. Adam who runs a 40 Days for Life campaign in Southampton shared an interesting testimony on the importance of public witness. Adam explained that recently as part of his 40 days for Life campaign outside a hospital where abortions are performed his group were praying and singing. Later that evening he was contacted by one of the medics who'd been in the hospital that day and had searched online to find out the contact details of the person organising the vigil outside. The medic told Adam how the fact that his group was standing outside praying and singing had sparked a discussion inside the hospital among the staff who began to talk about the rights and wrongs of abortion. This medic himself had concerns about abortion so it gave him an opportunity to share that with other members of staff. This was a good reminder to those involved with the Abortion Act Remembrance display that we never know what conversations are sparked because of our witness and what the end result of those conversations might be.